Symmetries and Covers of Discrete Objects
14-19 February 2016
Rydges Hotel, Queenstown, New Zealand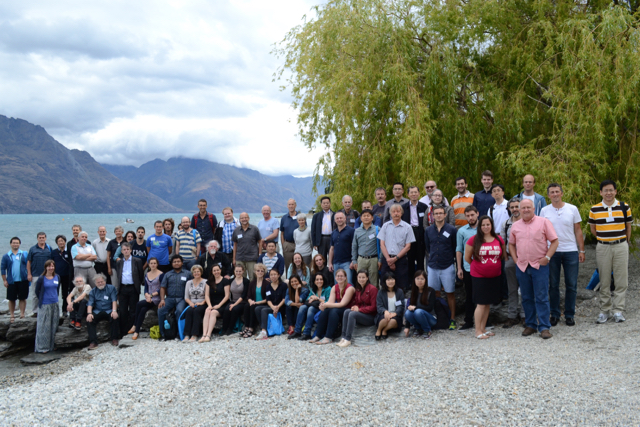 Invited Speakers
Isabel Hubard (UNAM, Mexico)
Gareth Jones (Southampton, UK)
Ruth Kellerhals (Fribourg, Switzerland)
Seiya Negami (Yokohama National University, Japan)
Jaroslav Nesetril (Charles University, Czech Republic)
Jozef Siran (Open University, UK and Slovak University of Technology)
Tom Tucker (Colgate University, USA)
Asia Ivic Weiss (York University, Canada)
Talks
Please click here to access the slides of the talks.
Registration
Registration is now closed. Click here to see the list of people who registered.
Venue
The conference will be held at the Rydges Lakeland Resort in Queenstown. Participants should organise and book their own accommodation.

Bookings made at Rydges will be confirmed in an email from the hotel (and not from the conference organisers). If you don't receive a confirmation by email from the hotel, then it is likely that your accommodation booking has not succeeded, in which case you should try again.
Please note that the accommodation booking process and the conference registration process are completely separate.


Schedule
The conference will begin in the morning of Monday 15 February and will finish on Friday 19 at noon.
Conference registration will start around 4pm on Sunday. The conference will consist of invited talks (50 minutes) and contributed talks (20 minutes).
Please note that these timings INCLUDE 5 minutes for questions.

The schedule is available here.

The book of abstracts is available here.
Contact persons - organising committee
Marston Conder (m.conder@auckland.ac.nz)
Julie De Saedeleer (j.desaedeleer@auckland.ac.nz)
Dimitri Leemans (d.leemans@auckland.ac.nz)
Scientific Committee
Marston Conder (University of Auckland)
Jan Kratochvil (Charles University, Czech Republic)
Dimitri Leemans (University of Auckland)
Tomasz Pisanski (University of Primorska and University of Ljubljana)

Travel
The quickest way to reach Queenstown is by air. There are regular direct flights from Auckland, Wellington and Christchurch, and occasional flights also from Brisbane, Gold Coast, Melbourne and Sydney.

It is also possible to travel from Christchurch to Queenstown (distance 484km) by car in approx. 6 hours, or by bus in 8 to 10 hours (see InterCity bus service). It takes at least two days to travel from Auckland to Queenstown by car (as the driving distance is 1520km).

If you are travelling to New Zealand from overseas, then we recommend that you ask for a return airfare to Queenstown (rather than to Auckland, Wellington or Christchurch), as this is likely to be much less expensive than booking the final leg (to Queenstown) separately. In fact you might like to check the airfares available through APX Travel, the University of Auckland's travel supplier, which can issue airline tickets.

Also if you are visiting from overseas, you might or might need a visa to enter New Zealand. See the Visiting New Zealand website for more details.

Queenstown airport is approx. 8 km from the conference venue, and there are numerous transport options: bus (NZ$12), shuttle (NZ$22), taxi (NZ$35) or rental car.
Click here for details.