| | |
| --- | --- |
| Tourism and Travel Information | |
COMING TO Auckland, New Zealand
Please book flights to Auckland, Auckland international airport. The conference venue is Auckland city.
Airbus - City to Airport Service
Departs City and Airport every 20 minutes during the day and every 30 minutes during the evening.
To Airport - first bus 5:10am; Last bus 8:50pm

To City - first bus 6:20am; Last bus 10pm.

Adult fare: Single $13.00 Return $22.00

Child fare: Single $ 6.00 Return $12.00 (Ages 4 -14 years)

Special fare for YHA, Backpacker and student cardholders.

Reservations not required.

Tickets available from the driver

Information +64 9 275-7685
Taxis and shuttle buses are licensed to operate from the Airport . They are available for all flights and are very reliable.
The Airport to City taxi fare is approximately NZ$45.
Shuttle buses offer economical transportation (approximately NZ$25) between the Airport and city or suburbs on a 'shared ride' basis. You are taken directly to your accommodation.
Ranks for both taxis and shuttle buses are situated at the western side of the International Terminal, and in front of the Domestic Terminals.
A free bus runs between the International Terminal and the Air New Zealand and Ansett Domestic Terminals from 6am until 10:30pm.
Other information
http://www.outandabout.co.nz/accom.cfm
You can get maps of the train routes from the information desks in the airport. All types of train tickets can be bought at the airport.
Visas
Visas are not required.
Insurance
Visitors are not covered by the New Zealand Medical Health Insurance Plan. It is recommended that the participants arrange their own travel insurance.
Auckland City
New Zealand is situated in the southern waters of the Pacific Ocean, with a population of over three million. Known by the Maori as Aotearoa, "land of the long white cloud", New Zealand is celebrated for its breath-taking scenery, ranging from sparkling beaches in the north, to majestic mountain ranges and fjords in the south.
Auckland is New Zealand's largest city, with a wider metropolitan population of just over a million. The city is also known by Maori as Tamaki-makau-rau, "Tamaki desired by thousands".
The University of Auckland's campuses offer the attractions of city life combined with the appeal of outdoor living - close to cafes, restaurants, cinemas, parks, quality clothing and craftshopping, yet within 30 minutes of some of the world's most stunning beaches. A harbour city with a mild climate, Auckland provides opportunities to pursue all sorts of water sports and explore the many islands in its harbour, famed as tourist spots and bird sanctuaries.
Auckland is also a centre for the arts and entertainment. The Aotea Centre, Town Hall and many other venues regularly play host to world class performances of music, dance and theatre. The University's own Maidment Arts Centre offers performances of alternative theatre, children's theatre, dance, pantomime as well as the occasional free music concerts.
Recognised as New Zealand's leading art museum, the Auckland Art Gallery's unrivalled New Zealand holdings trace the development of New Zealand art from Cook's voyages to the present day. There is always a large selection of Maori portraits by the great nineteenth-century artists Goldie and Lindauer on display along with major early historical paintings and works on paper by artists such as Blomfield, Heaphy, Hoyte and Sharpe.
History
Prior to European settlement in the early nineteenth century, Auckland was heavily populated by the indigenous people of New Zealand, the Maori. The Maori, of Polynesian descent, settled in this area around 1200 AD after sailing across the Pacific from Polynesia.
The area now known as Auckland was purchased from the Maori people in 1840 for six British Pounds. Auckland briefly enjoyed capital status from 1840 to 1865 when the administrative and legal centre of the country was assigned to Wellington. Auckland, however, remains the largest city in New Zealand.
Electricity
Auckland operates on alternating current (AC) 230 volts, 50 hertz mains supply. Hotels and Motels usually provide 110 volt AC sockets (20 volts) for electric shavers only.
If arriving from overseas, its best to bring a converter with you. However, if you arrive without one, you may be able to buy one at a hardware store, general goods store such as Deka or at a duty free store of which there are many in Downtown Auckland.
Currency
One A$ has recently been worth around NZ$1.207
Also the exchange rate of the NZ$ has been about NZ$2.23 to the U.S dollar (as of April 2002)
Click here to convert NZ Dollars into A$:
Climate and Time
New Zealand has a temperate climate where the northern part of the country is noticeably warmer than the southern part. There are four seasons: Summer (December to February), Autumn (March to May), Winter (June to August) and Spring (September to November).
Auckland is near the top of the North Island. The average daytime temperature in Summer is 26C/80F and the average Winter temperature is 15C/60F. The weather is variable and so it would advisable to bring some warm clothes even in December.

Auckland City Map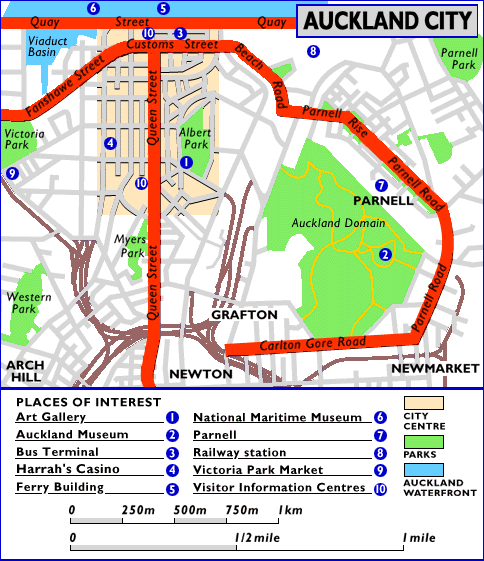 Regional Map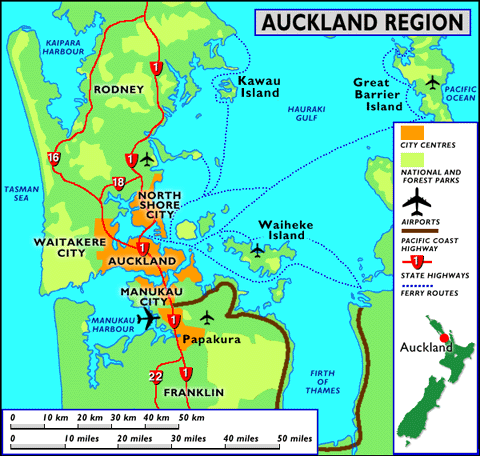 | | |
| --- | --- |
| Rotorua | |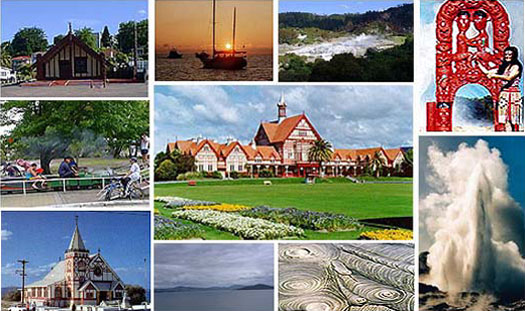 Rotorua is about three hours drive from Auckland. Rotorua is part of the aptly named "Bay of Plenty" region, located in the heart of New Zealand's North Island. Just 320km (142 miles) south of Auckland (NZ's largest city), the district of Rotorua covers an area of 261,000 hectares and has a population of around 68,000 people, situated on the edge of beautiful Lake Rotorua. Sliding tectonic plates create volcanoes, natural hot springs and bizarre smelling pools of bubbling mud, geysers that shoot from the ground with impressive regularity and a paintbox ofdifferent coloured waters. Geography has never been so interesting.
Some describe Rotorua as the easiest place in the country to catch a fish. Because of the region's excellent reputation, anglers from all over the world relish the prospect of visiting the Rotorua Lakes. Whatever your level of angling experience and skill, the Rotorua Lakes region offers an incredibly wide range of trout fishing opportunities. There are always fish biting somewhere in the district! Many of the lakes in the area are world renowned for the quality and size of fish. Stream fishing through the centre of Rotorua, chances to catch once-in-a-lifetime trophy fish, and waters among the most scenic in New Zealand provide endless experiences to anglers.

Rainbow trout are the predominant fish in most of the lakes, but Brown and Tiger trout are present in some. The Rotorua Lakes provide excellent fishing for both first-timers and experienced anglers, all within 40 minutes' drive of Rotorua city.
| | |
| --- | --- |
| Taupo | |
Lake Taupo, 42 by 25 kilometers and 570 metres deep, formed explosively 25000 years ago, when over one thousand cubic kilometres of earth were blown out over the local landscape, the residual volcanic activity of which ubiquitously simmers, and occasionaly boils over, at active Mount Ruapehu. Skiing on this volcano is popular at Whakapapa and Turoa. Ngaruahoe, and Tongariro are two other local volcanoes. Melted snow contributes to Lake Taupo via the Tongariro River, and both the river and the lake are famous, even by New Zealand standards, for trout fishing. Rainbow trout average 2 kilogrammes, brown trout average 3 kilogrammes. If you need fishing help, fly fishing experts and charter boat skippers will guide you. Scenic flights are popular, and routes by floatplane, helicopter, and fixed wing aircraft provide a loftier perspective. Other activities include scenic cruises, jet boat rides, whitewater rafting, bungy jumping, kayaking, swimming, sailing, parasailing, waterskiing, and board sailing. New Zealand is famous for hunting, too, and this area features deer, goats, pigs, and ducks.
| | |
| --- | --- |
| Waitomo Glow Worm Caves | |
The Waitomo Glow Worm Caves are located just 2 hours drive south from Auckland and west from Rotorua. Immediately you enter this mysterious underground world, you will marvel at the amazing 'decorations' created by mother nature. These natural 'decorations', stalactites, stalagmites and sculptures have formed as a result of water dripping from the roof of the cave or flowing over the exposed limestone walls. As the water flows down through the earth towards the cave roof and walls, it dissolves limestone in it's path. This limestone is then left as a crystaline deposit within cave. These spectacular formations have developed over thousands of years and must be treated with respect.
The climax of your tour is the boat trip into the Glow Worm Grotto. For more than 100 years, vistors from home and abroad have journeyed into this 'starry wonderland' and been facinated and intrigued by the tiny insect that can perform such magic.
| | |
| --- | --- |
| Bay of Islands | |
New Zealand was first discovered about 1000 years ago by the great Polynesian navigator Kupe who sailed here from his homeland Hawaiki. He named the islandsAotearoa, Land of the Long White Cloud. Kupe returned to Hawaiki and left instruction on how to get here. About 400 years later Maori arrived back in Aotearoa with seven great canoes and began to populate the North Island. The Dutchman Abel Tasman landed in 1642, charted part of the coastline and named it Staten land, believing it was part of the Australian continent. When his mistake was discovered the country was renamed Nieuw Zeeland. In 1769 James Cook came to New Zealand, extensively charted both North and South Island and gave the Bay of Islands its present name.
Cruise between the islands all the way to Cape Brett and the famous 'Hole in the Rock'. There is a good chance of seeing a variety of wildlife along the way. Absorb the natural beauty and tranquility of the Bay and stopover on one of the islands. Swim with the dolphins and go boom-netting. As well as dolphins other wildlife may be seen on most trips.
---
Would you like to know more about Auckland or New Zealand? Here are some links you might be interested in:
New Zealand Immigration Service
---